"… life, literature, and the pursuit of happiness in the famous Troubadour cellar-club, London's liveliest and best–loved poetry landmark since the 1950s …"
Former US Poet-Laureate Billy Collins on the Troubadour's 60th birthday as a writer's café…
           Thanks to the zeal of its many managers and promoters, the Troubadour has evolved over its 60 year history from a hidden-away beatnik coffee house to a world famous center for the performance of music and poetry. Its walls have become storied, and if only the place had halls, they would be hallowed. The Troubadour was the scene of the first reading I gave in the UK, and I count myself among the long line of poets who are eager to return and darken its doorway again.
welcome
from Coffee-House Poetry organiser, Anne-Marie Fyfe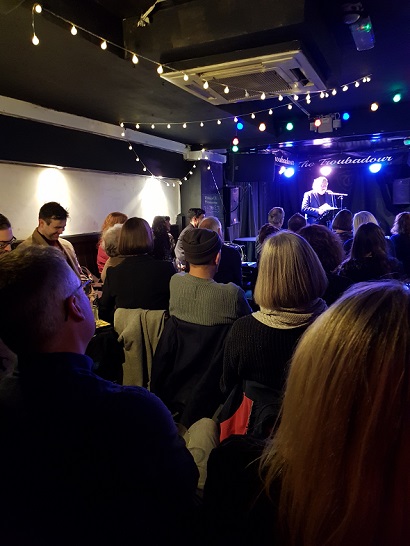 Monday night's highlight, as Thomas Lynch, poet, philosopher, BBC Radio 4 essayist, & Michigan funeral director!, introduces his first set after so many great, new poems specially written by our amazing cohort of Troubadour poets for our distinctly un-Valentine-ish (Feb 10th) celebration of Poems of Love & Death. Our  poets' challenge was to write new poems on desire, or demise, or both & the results, & the poems' emotional range, were stunning!
Next up re #poetrymondays (details tbc) will be in March, as I'm travelling a great deal right now with my new book, but already confirmed for summer we have John Hegley, Barney Ashton Bullock, Helen Tookey, Jeffery Sugarman, Eleni Cay, & more! Also keep an eye on our workshops/classes page, with another in the new Sunday 2-parter+homework format coming up on 1st & 15th March.
I know many of you have asked about single/one-off Sunday workshops (as we'd always done before introducing the double-Sunday format) & those will be returning after next 2-parter. And yes, I know some of you love the double-Sunday-sessions since you get to work on an assignment between the dates: those too will continue. 
Cahal Dallat's 6-week Tuesday Between the Lines 'close reading & critical masterclass' series at Chiswick's ArtsEd have been a great success & the follow-up (6-week) series Between the Lines#2 on Thursday evenings from Feb 27th, is now full. For those asking when there'll be another, just look out for our e-bulletins. And Summer Poetry in the Glens of Antrim  has been fully-booked since just after it was posted in December, with a waitlist too, I'm afraid.
I'm travelling, between end of March & May, & then again for a period in the autumn, but classes & events will keep popping up on a pop-up basis! 
And while I'm away, the 2020 Troubadour International Poetry Prize (deadline Mon 22 Jun, judges Mark Doty & Mona Arshi) is, of course, in good hands with Coffee-House Poetry admin handling submissions/acknowledgements, so please do keep submitting your poems to win £2,000, £1,000 or £500. An  American poets-&-writers magazine just e-mailed to say they were featuring/highlighting our 'contest' because the prizes were so generous & the entry fee so low. Interesting?!?
That's all for now, more news soon…
#poetrymondays
mondays 8-10 pm, £7 at the troubadour
for advance booking: pay via PayPal (on readings page) or cheque to Coffee-House Poetry at PO Box 16210, LONDON W4 1ZP
mon 10 feb: poems of love & death with US undertaker-poet thomas lynch plus twenty-five troubadour poets with new takes on desire & demise…