"… life, literature, and the pursuit of happiness in the famous Troubadour cellar-club, London's liveliest and best–loved poetry landmark since the 1950s …"
Former US Poet-Laureate Billy Collins on the Troubadour's 60th birthday as a writer's café…
           Thanks to the zeal of its many managers and promoters, the Troubadour has evolved over its 60 year history from a hidden-away beatnik coffee house to a world famous center for the performance of music and poetry. Its walls have become storied, and if only the place had halls, they would be hallowed. The Troubadour was the scene of the first reading I gave in the UK, and I count myself among the long line of poets who are eager to return and darken its doorway again.
welcome
from Coffee-House Poetry organiser, Anne-Marie Fyfe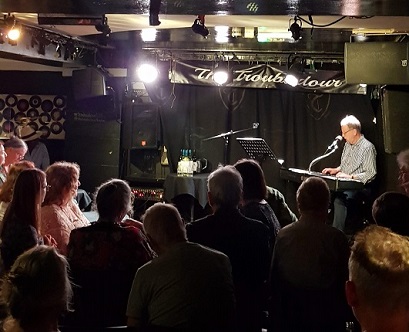 Programme change! Delighted to welcome Greta Stoddart back to the Troubadour stage in a line-up change for the whirling #poetrymonday carousel that is What We Should Have Said: (18 Nov).
This event is booking fast! Best to book now (via PayPal on #poetrymondays page).
With a background in theatre (a recent BBC Radio piece was Pick of the Week) Greta's one of the stars of Michael Donaghy's outstanding City University alumni & will weave words (to harmonies from composer Peter Foggitt) with Richard Douglas Pennant, & Stephen Sexton — whose Penguin debut was recently compared, in the Sunday Times to Seamus Heaney's — plus 20 great Troubadour poets.
And great to welcome back What We Should Have Said's resident wit, writer/actor/director Stuart Silver who missed the summer's super-spoken-word-swirl due to TV/film commitments!
Season's start is Mon 21 Oct, which is also poem-submission deadline so, between now & then, make sure you've submitted the pick of your summer crop to 2019's Troubadour International Poetry Prize judged, this year by Pat Boran & Kathryn Maris.
And see you all in the cellar-club again for (see right) an amazing autumn season.
#sundaygallery classes - oct-dec 2019
sundays 12-4 pm: £35 at the troubadour
advance booking only via PayPal or cheque to Coffee-House Poetry, PO Box 16210,

LONDON

W4 1ZP
sun 20 oct, 12-4pm memory cloud: complexities of blue, poetry workshop with anne-marie fyfe
sun 20 oct, 2.30-5pm, land of heart's desire: wb yeats literary walk with cahal dallat