"… life, literature, and the pursuit of happiness in the famous Troubadour cellar-club, London's liveliest and best–loved poetry landmark since the 1950s …"
Former US Poet-Laureate Billy Collins on the Troubadour's 60th birthday as a writer's café…
           Thanks to the zeal of its many managers and promoters, the Troubadour has evolved over its 60 year history from a hidden-away beatnik coffee house to a world famous center for the performance of music and poetry. Its walls have become storied, and if only the place had halls, they would be hallowed. The Troubadour was the scene of the first reading I gave in the UK, and I count myself among the long line of poets who are eager to return and darken its doorway again.
welcome
from Coffee-House Poetry organiser, Anne-Marie Fyfe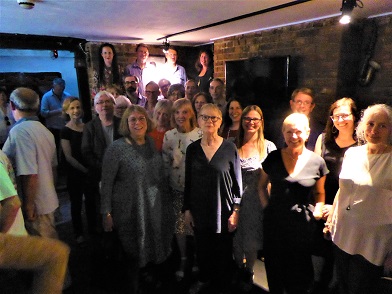 Proof – if proof were needed – that we share a common language on both sides of the North Atlantic & that we share an interest in 'uncommon language', as 100+ packed our cellar-club cool on a hotter-than-a-Manhattan-high-summer-sidewalk evening, last Poetry Monday (11th).
And what better way to celebrate that special transatlantic poetic relationship than with three such great, & unusual, American voices, Linda Gregerson, Kathryn Maris & Sandy Solomon, all taking different tacks on poetry & language, & all of whom, incidentally, spend much time on these shores listening to English English too!
Context is everything, of course, & the setting for the 3 main readers was a complete run-down on best, & best-loved, contemporary US poetry from 21 Troubadour poets who showed fine discrimination in their choices, & real current engagement with our not-so-distant linguistic cousins: so a big thank-you – for great selections from familiar & not-so, US names, & for great readings, from Barbara Marsh, Steve Kendall, Jan Heritage, Warren Czapa, Miranda Peake, Michelle Penn, Matt Barnard, Catherine Davidson, Tim Waller, Susannah Hart, Sue Greenhill, Oliver Comins, Barbara Barnes, Martyn Crucefix, Sue Chamberlain, Tim Richardson, Diana Pooley, Matthew Paul, Lynne Hjelmgaard, Betsy De Lotbiniere, Gale Burns & June Lausch.
You'll all know by now (if you're on our e-list) that Louder than Words (Sun 10 Jun) was a typical sold-out/waiting-list situation so next Sunday (17th) is your chance to catch-up on what proved an extremely enjoyable & creative new Troubadour Sunday Gallery workshop on the multi-faceted joys – & otherwise – of 'silence': booking up already but sill a few places!
And do check out deadlines, rules & the amazing additional prizes (poetry journal subscriptions, books from top poetry publishers &, for the first time, a week's course at the Arvon Centre of your choice, as well as usual major cash prizes) in this year's Troubadour International Poetry Prize, judged by Jo Shapcott & Daljit Nagra & now open for submissions: & do have a look at our previous years' winning poems.
Looking forward to a great Troubadour summer-season wrap-party on Monday 25th!
PS: Just added on the usual mid-season pop-up basis, Of night & light & the half light…, Troubadour Sunday Gallery workshop, Sun 24th Jun, & last workshop before mid-autumn, see classes page!
classes & courses - may-sep 2018
troubadour gallery sundays 12-3.30 pm, £28 at the troubadour
advance booking only as our workshops/classes (limited to 15 attendees) are frequently oversubscribed: pay via PayPal (see classes page) or cheque to Coffee-House Poetry, PO Box 16210, LONDON W4 1ZP: if overbooked you'll be informed by e-mail & refunded promptly