"… life, literature, and the pursuit of happiness in the famous Troubadour cellar-club, London's liveliest and best–loved poetry landmark since the 1950s …"
Former US Poet-Laureate Billy Collins on the Troubadour's 60th birthday as a writer's café…
           Thanks to the zeal of its many managers and promoters, the Troubadour has evolved over its 60 year history from a hidden-away beatnik coffee house to a world famous center for the performance of music and poetry. Its walls have become storied, and if only the place had halls, they would be hallowed. The Troubadour was the scene of the first reading I gave in the UK, and I count myself among the long line of poets who are eager to return and darken its doorway again.
welcome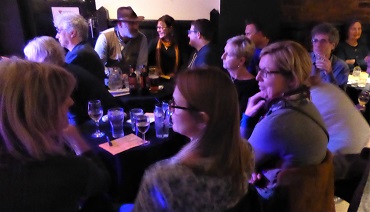 from Coffee-House Poetry organiser, Anne-Marie Fyfe
Here comes summer! Starting, as it happens with Spring Bank Holiday Monday (Mon 28 May) & our first Poetry Monday get-together after my return from the long US/Canada trip (from Laredo & the Mexican border up through Massachusetts & Maine to the Canadian border & the Maritimes!)
First event focuses on firsts: with four exciting first-collection poets, plus 21 poets with new poems specially written for the occasion on the theme of first things! And that's followed a fortnight later (Mon 11 Jun) by four American poets, some of them longtime London residents & poetry activists, together with a range of guest Troubadour poets' favourite American poems.
Check out all the May-Jun events on our Poetry Mondays schedule, & our first summer Sunday Gallery workshop (see Courses & Classes which also includes literary walks etc).
Workshops continue as pop-ups (as there's so much else going on!) so do check this new one out, esp. as lots of those who explore silence in Louder than Words on Sun 10 Jun will be reading their new work at Sounds & Silence on Mon 25 Jun, where we'll hear guests' poems & poem choices on anything to do with sound, pleasant or not-so-pleasant, reassuring or jarring, conversation, music, noise etc… &, of course, the equally poetic absence thereof!
Meantime, do check out rules/deadline for this year's Troubadour International Poetry Prize's & enjoy some of our previous years' winners on the poems page.
See you all soon!
classes & courses - may-sep 2018
sun 10 jun, 12-3.30 pm: louder than words: themed writing workshop with anne-marie fyfe
sun 10, sat 16 & sun 17 jun 2.30-5 pm, £18: land of heart's desire: 'wb yeats' literary walks with cahal dallat
mon 27 aug to sat 1 sep, summer poetry in the glens of antrim, residential week with anne-marie fyfe & cahal dallat
troubadour gallery sundays 12-3.30 pm, £28 at the troubadour
advance booking only as our workshops/classes (limited to 15 attendees) are frequently oversubscribed: pay via PayPal (see classes page) or cheque to Coffee-House Poetry, PO Box 16210, LONDON W4 1ZP: if overbooked you'll be informed by e-mail & refunded promptly