"… life, literature, and the pursuit of happiness in the famous Troubadour cellar-club, London's liveliest and best–loved poetry landmark since the 1950s …"
Former US Poet-Laureate Billy Collins on the Troubadour's 60th birthday as a writer's café…
           Thanks to the zeal of its many managers and promoters, the Troubadour has evolved over its 60 year history from a hidden-away beatnik coffee house to a world famous center for the performance of music and poetry. Its walls have become storied, and if only the place had halls, they would be hallowed. The Troubadour was the scene of the first reading I gave in the UK, and I count myself among the long line of poets who are eager to return and darken its doorway again.
welcome
from Coffee-House Poetry organiser, Anne-Marie Fyfe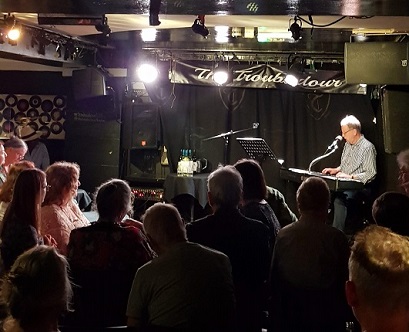 Endings, last night's #poetrymonday #poetryparty theme, became an astoundingly diverse source of inspiration in the hands of dazzling guest poets, with so many playing on endings as new beginnings – including, for example, finishing final exams as an obvious end of one phase & the start of something big!
A fitting ending, too — with such sparkling poems & the essence of #coffeehousepoetry literary fun — for the final/concluding event of what's been a great poetry season.
Poetry's still happening over the next 2 months, though, at the John Hewitt Summer School in Armagh where I'll be from Mon 22 to Sat 27 Jul with poets including Billy Collins, Kathryn Maris, Mona Arshi, Kerry Hardie, Fiona Benson, Mary Jean Chan, Tamar Yoseloff, Billy Ramsell, Sarah Clancy & Zaffar Kunial, plus novelists, playwrights, musicians, political thinkers & much more…
And, of course, at our own #coffeehousepoetry residential course, Summer Poetry in the Glens of Antrim, Mon 26 to Sat 31 Aug!
What to do with all the great poems you're writing? Do check our Troubadour International Poetry prize judged, this year by Pat Boran & Kathryn Maris: deadline's October but submissions already stacking up!
Watch out for lots more exciting Coffee-House Poetry at the Troubadour happenings in the autumn.
Have a great, & poetically prolific, summer!
classes & courses
#sundaygallery workshops 12-4 pm: £35 at the troubadour
advance booking only via PayPal or cheque to Coffee-House Poetry, PO Box 16210,

LONDON

W4 1ZP
(#sundaygallery classes ended on 23 jun but see courses & classes 'elsewhere' below): & check back later or join our e-list for news of autumn #sundaygallery workshops…)
poetry elsewhere…
mon 22—sat 27 jul, john hewitt international summer school 2018, a week of readings, talks, lectures, discussions, creative writing, drama, music, with poets including Billy Collins, Kathryn Maris, Mona Arshi, Kerry Hardie, Fiona Benson, Mary Jean Chan, Tamar Yoseloff, Billy Ramsell, Sarah Clancy & Zaffar Kunial, plus novelists, playwrights, musicians, political thinkers & much more, armagh
mon 26 aug to sat 31 aug, summer poetry in the glens of antrim, carnlough with anne-marie fyfe & cahal dallat