"… life, literature, and the pursuit of happiness in the famous Troubadour cellar-club, London's liveliest and best–loved poetry landmark since the 1950s …"
Former US Poet-Laureate Billy Collins on the Troubadour's 60th birthday as a writer's café…
           Thanks to the zeal of its many managers and promoters, the Troubadour has evolved over its 60 year history from a hidden-away beatnik coffee house to a world famous center for the performance of music and poetry. Its walls have become storied, and if only the place had halls, they would be hallowed. The Troubadour was the scene of the first reading I gave in the UK, and I count myself among the long line of poets who are eager to return and darken its doorway again.
welcome
from Coffee-House Poetry organiser, Anne-Marie Fyfe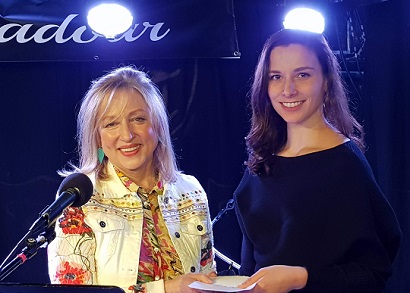 What an end to a poetry-packed (& superbly supported!) season with so many dazzling new technicolour poems from Troubadour poets in our end-of-season Over The Rainbow poetry-party & outstanding poems from our Troubadour International Poetry Prize 2019 winners & commendeds with top prize going to Michaela Coplen (receiving her £2,000 cheque in pic above).
Great to have a chance to meet some of the poets behind the poems over which Pat Boran & Kathryn Maris have deliberated since the deadline. Given the winners' geographical spread from Limerick to Lewes to Orkney to Edmonton & Virginia, not all winners could attend but you can read the full winners-&-commendeds list, and their poems, & Kathryn's & Pat's illuminating thoughts on the judging process on our poems page.
Look out for next year's prize news, & events, workshops (some already listed) & our summer course (on classes page) & if you haven't already, do sign up for our Coffee-House Poetry newsletter.
All best wishes for a great Christmas & New Year!
classes & courses
sundays 12-4 pm: £35 at the troubadour
advance booking only via PayPal or cheque to Coffee-House Poetry, PO Box 16210,

LONDON

W4 1ZP
sun 24 nov & sun 8 dec, 12—4pm: memory cloud#2: house — the home movie, poetry workshop with anne-marie fyfe
* sun 19 jan & sun 2 feb, 12—4pm: memory cloud#2: house — the home movie, poetry workshop with anne-marie fyfe
mon 10—sat 15 aug 2020 summer poetry in the glens of antrim with anne-marie fyfe & cahal dallat