"… life, literature, and the pursuit of happiness in the famous Troubadour cellar-club, London's liveliest and best–loved poetry landmark since the 1950s …"
Former US Poet-Laureate Billy Collins on the Troubadour's 60th birthday as a writer's café…
           Thanks to the zeal of its many managers and promoters, the Troubadour has evolved over its 60 year history from a hidden-away beatnik coffee house to a world famous center for the performance of music and poetry. Its walls have become storied, and if only the place had halls, they would be hallowed. The Troubadour was the scene of the first reading I gave in the UK, and I count myself among the long line of poets who are eager to return and darken its doorway again.
welcome
from Coffee-House Poetry organiser, Anne-Marie Fyfe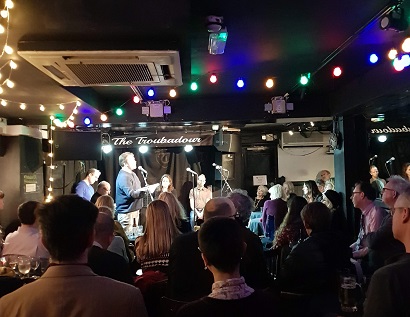 A rapt — & packed to the rafters audience as Belfast's Stephen Sexton steps up to the mic — one of five 5-star guests in a dazzling display of poetry pyrotechnics at last night's swirling What We Should Have Said sequence along with poets Greta Stoddart (East Devon) & Richard Douglas Pennant (North Wales) each coming up with one poem after another, each triggered by something said in the last or last-but-one piece, each catching ideas, motifs, connections from the other, from the ether… with subtle sounds from Peter Foggitt on piano, droll conjectures from philosopher Stuart Silver… & of course, 20 suberb poem premieres from first-half Coffee-House Poets rising to the before-the-break challenge/commission on a theme of words, spoken & unspoken.
Another mustn't-miss #poetrymonday comes up — you can book now via PayPal — on Dec 2nd when we wrap this superb season with a kaleidoscopic multi-coloured cavalcade of poems in every shade, hue, tone & Technicolor tint — the full poetry palette (plus music & blancs-et-rouges prize quiz) at our festive end-of-season poem party, Over the Rainbow see right). And see you there!
#sundaygallery classes - oct-dec 2019
sundays 12-4 pm: £35 at the troubadour
advance booking only via PayPal or cheque to Coffee-House Poetry, PO Box 16210,

LONDON

W4 1ZP
sun 24 nov & sun 8 dec, 12—4pm both days at the troubadour
memory cloud#2: house — the home movie, poetry workshop with anne-marie fyfe
sun 20 oct, 12-4pm memory cloud: complexities of blue, poetry workshop with anne-marie fyfe
sun 20 oct, 2.30-5pm, land of heart's desire: wb yeats literary walk with cahal dallat