"… life, literature, and the pursuit of happiness in the famous Troubadour cellar-club, London's liveliest and best–loved poetry landmark since the 1950s …"
Former US Poet-Laureate Billy Collins on the Troubadour's 60th birthday as a writer's café…
           Thanks to the zeal of its many managers and promoters, the Troubadour has evolved over its 60 year history from a hidden-away beatnik coffee house to a world famous center for the performance of music and poetry. Its walls have become storied, and if only the place had halls, they would be hallowed. The Troubadour was the scene of the first reading I gave in the UK, and I count myself among the long line of poets who are eager to return and darken its doorway again.
welcome
from Coffee-House Poetry organiser, Anne-Marie Fyfe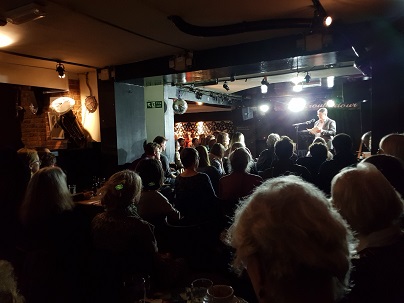 Oliver Comins, first-up of our #coffeehousepoetry regulars to read a contemp. US poet at this #poetrymonday's Born in the USA! extravaganza, with Univ. of North Florida poets, singer/songwriter Devon Halliday, Jacksonville language/performance artist #clarklunberry, & headline guests Dan O'Brien (Santa Monica), Kathryn Maris (NY), & Mark Halliday (Ohio).
As to first-half selections, Oliver chose Chelsey Minnis – other Troubadour poets chose Lucille Clifton, Dennis Nurkse, Hayden Carruth, Billy Collins, Charles Simic, Terrance Hayes, some of them former Troubadour guests, including Billy Collins, who headlines along with Kathryn Maris at this year's John Hewitt International Summer School in Armagh.
Thanks, all for a dazzling (& packed-out) evening of transatlantic poets & poetry! And don't miss our next sparkling #poetrymonday, #coffeehousepoetry's end-of-summer-term party which just happens, this time, to be entitled Endings — allowing our guest poets to explore happy endings, grand finales, open endings, the last word, the final say, the end of the beginning, & the beginning of the end, endless possibilities, in fact. (Details, see right, book now via PayPal on our readings page!)
See you at the party!
classes & courses
#sundaygallery workshops 12-4 pm: £35 at the troubadour
sun 2 jun & sun 23 jun, 12-4pm: memory cloud: retracing steps poetry workshop with anne-marie fyfe
advance booking only via PayPal or cheque to Coffee-House Poetry, PO Box 16210,

LONDON

W4 1ZP
also, elsewhere…
sun 9 jun, sun 16 jun & sun 23 jun, 2.30-5pm, land of heart's desire: wb yeats literary walks with cahal dallat in bedford park, london w4
mon 22—sat 27 jul, john hewitt international summer school 2018, a week of readings, talks, lectures, discussions, creative writing, drama, music, with poets including Billy Collins, Kathryn Maris, Mona Arshi, Kerry Hardie, Fiona Benson, Mary Jean Chan, Tamar Yoseloff, Billy Ramsell, Sarah Clancy & Zaffar Kunial, plus novelists, playwrights, musicians, political thinkers & much more, armagh
mon 26 aug to sat 31 aug, summer poetry in the glens of antrim, carnlough