"… life, literature, and the pursuit of happiness in the famous Troubadour cellar-club, London's liveliest and best–loved poetry landmark since the 1950s …"
Former US Poet-Laureate Billy Collins on the Troubadour's 60th birthday as a writer's café…
           Thanks to the zeal of its many managers and promoters, the Troubadour has evolved over its 60 year history from a hidden-away beatnik coffee house to a world famous center for the performance of music and poetry. Its walls have become storied, and if only the place had halls, they would be hallowed. The Troubadour was the scene of the first reading I gave in the UK, and I count myself among the long line of poets who are eager to return and darken its doorway again.
welcome
from Coffee-House Poetry organiser, Anne-Marie Fyfe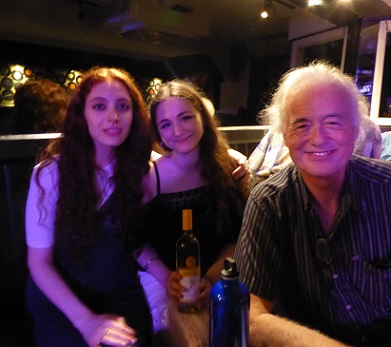 pic: prize-winner (at Sounds & Silence) Katerina Grabowsky (centre) with friends Scarlett Sabet & Jimmy Page
It's a wrap — end to another hectic programme (& thanks to all you great audience members & guest poets for your support) — & what a wrap party (such numbers despite the capital's hottest day) with amazingly diverse, eclectic, didactic, subtle & unexpected poem choices on the unlikeliest of themes: Sounds & Silence!
Congratulations to Katerina Grabowsky (above) – who collected the night's bonus prize for best contribution out of a stunning field of Troubadour poets (mostly audience regulars) from points as diverse as Cambridge, Maidstone, Brighton & Oxford… The bonus prize wine-label is always chosen to complement the evening's theme, 'Barefoot' Pinot Grigio subtly linking to ideas of Sounds & Silence, just as so many of the poems/poem-choices worked subtly & elegantly around the aural/inaudible world.
And top quiz-prize went to the high-scoring table of Mary Gurr, Jo Roach & Stewart Carswell, a 100% music round & a creditable 90%+ on poetry, film, & quirky, unconsidered general-knowledge trifles.
So I'm off to Orkney, with much of the next 3 months in Scotland, Ireland, Wales & the West Country (check out The Voyage Out) & no more #sundaygallery sessions – or #poetrymondays – for now, but do check website at summer's end or, even better, sign-up to be among the first to hear about autumn's events & workshops as they're posted!
And we're not leaving you unpoetically poetry-less in the high days of July & August, as there's still the tempting Troubadour International Poetry Prize 2018 to inspire (& incentivise) your summer scribblings! Judged by Jo Shapcott & Daljit Nagra, it's now open for submissions & offers a great range of prizes including, for the first time, an Arvon course at the centre of your choice, plus this year's selection of sponsored prizes from notable literary magazines & poetry presses: & do have a look at our previous years' winning poems.
See you back in the city when it all cools down a little: have a great summer wherever you are, whatever you're reading — and writing, writing, writing!!!
#sundaygallery classes & courses - may-sep 2018
… on summer break just now — check website later for details of autumn #sundaygallery workshops or sign-up to receive e-mail updates
troubadour gallery sundays 12-3.30 pm, £28 at the troubadour
advance booking only as our workshops/classes (limited to 15 attendees) are frequently oversubscribed: pay via PayPal (see classes page) or cheque to Coffee-House Poetry, PO Box 16210, LONDON W4 1ZP: if overbooked you'll be informed by e-mail & refunded promptly