"… life, literature, and the pursuit of happiness in the famous Troubadour cellar-club, London's liveliest and best–loved poetry landmark since the 1950s …"
Former US Poet-Laureate Billy Collins on the Troubadour's 60th birthday as a writer's café…
           Thanks to the zeal of its many managers and promoters, the Troubadour has evolved over its 60 year history from a hidden-away beatnik coffee house to a world famous center for the performance of music and poetry. Its walls have become storied, and if only the place had halls, they would be hallowed. The Troubadour was the scene of the first reading I gave in the UK, and I count myself among the long line of poets who are eager to return and darken its doorway again.
welcome
from Coffee-House Poetry organiser, Anne-Marie Fyfe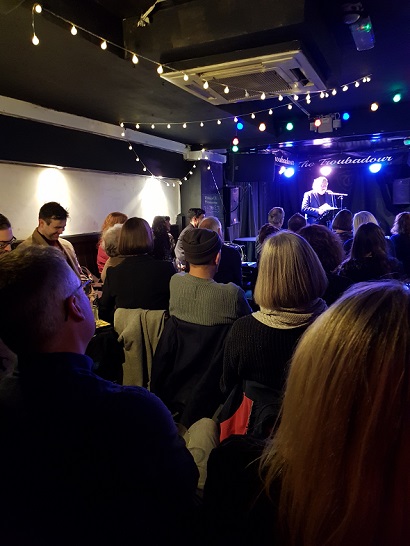 Just a note to let you all know that – in line with all those organisations wisely cancelling public events/gatherings – there won't now be another pop-up #poetrymonday this side of Easter, & events planned for May/June (which I'd mentioned at our recent event but not yet announced via website & newsletter) will be postponed. 
 
Similarly no more Sunday workshops in the meantime & there won't be a further Between the Lines evening workshop series in May/June. 
Also Troubadour International Poetry Prize 2020 has been cancelled: we look forward to having Mona Arshi & Mark Doty judge your poems for us at another time.
Alll those who've already submitted poems will have their payments refunded via PayPal or cheques returned.
  
Stay safe, & all best wishes…
#poetrymondays
mondays 8-10 pm, £7 at the troubadour
for advance booking: pay via PayPal (on readings page) or cheque to Coffee-House Poetry at PO Box 16210, LONDON W4 1ZP
mon 10 feb: poems of love & death with US undertaker-poet thomas lynch plus twenty-five troubadour poets with new takes on desire & demise…