welcome
from Coffee-House Poetry organiser, Anne-Marie Fyfe
With current themed creative-writing course, Solitary Spaces, coming to an end, & Between the Lines masterclass starting Fri 3 Mar, our next themed course offers a chance to explore the poetry of night in Nocturne (see right) over nine weeks from Sun 5 Mar. Meet me on the dark side!
And just a reminder of the outstanding poems that captivated judges Victoria Kennefick & Joshua Bennett & that we got to hear from 2022 Troubadour International Poetry Prize winners — Jonathan Edwards, first prize, £2,000, Anna Crowe, second, £1,000, Robert Maslen third, £500 — & from twenty excellent 'commendeds' on our Mon 5 Dec international Zoom, along with super readings from Victoria & Joshua.
Check out poets & poems here, & read what our judges had to say about the 2022 judging process!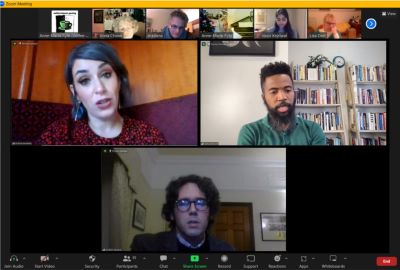 #poetrymondays on Zoom!
mon 5 dec, 7.30 pm: troubadour international poetry prize night: 2022 judges victoria kennefick & joshua bennett (free online event) with 2022 prizewinners
mon 13 june, 7.30 for 8pm: £10, bedford park festival poetry evening: the poetry of things With special guest: cahal dallat, hosted by anne-marie fyfe
mon 23 may, 8pm: tom sleigh & cahal dallat: reading & in-conversation (free online event)
See full details of poetry readings
classes & courses
sun 5 mar—sat 6 may, £280: nocturne: a 9-wk creative-writing workshop series with anne-marie fyfe
fri 3 mar—sat 29 apr, £240: between the lines #12 – focus on form#2, a 7-wk close reading & critical masterclass with cahal dallat
sun 15 jan—sat 18 mar, £280: solitary spaces: 9-wk creative-writing workshop series on solitude, with anne-marie fyfe
2022
sun 9 oct—sat 10 dec: taking a walk: the poetry of footfall: 9-wk creative-writing workshop series with anne-marie fyfe
fri 7 oct—sat 3 dec: between the lines #11, a 7-wk close reading & critical masterclass with cahal dallat
sun 28 aug—sat 10 dec: home truth: architecture & longing: 12-wk creative-writing workshop series with anne-marie fyfe
…