"… life, literature, and the pursuit of happiness in the famous Troubadour cellar-club, London's liveliest and best–loved poetry landmark since the 1950s …"
Former US Poet-Laureate Billy Collins on the Troubadour's 60th birthday as a writer's café…
           Thanks to the zeal of its many managers and promoters, the Troubadour has evolved over its 60 year history from a hidden-away beatnik coffee house to a world famous center for the performance of music and poetry. Its walls have become storied, and if only the place had halls, they would be hallowed. The Troubadour was the scene of the first reading I gave in the UK, and I count myself among the long line of poets who are eager to return and darken its doorway again.
welcome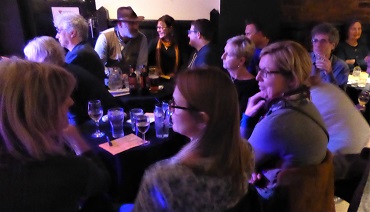 from Coffee-House Poetry organiser, Anne-Marie Fyfe
What a dazzling celebration of the mirrorworld as muse, myth, mystery & metaphor, in last night's Mirror, Mirror, a superb sequence of polished, reflective, kaleidoscopic, poems.
Poem-of-the-night prize (Clearsprings Sauvignon) went to Ian MacLachlan for a perfect balance of engaging content & superb delivery, with mirror-quiz prizes (wine again!) going to – 2nd & 3rd – Barbara Cumbers' team & Helen Adie's team, & first place going to the shining wit & wisdom of Steve & Judy Kendall, Sandra Galton & Tara Siddall.
Packed to the rafters, as ever: all down to the magic of mirrors, of course, & of a Troubadour Poetry Monday end-of-season party-night, &, I guess, the inevitable urge to be back in the swing of things in the warmth of the Troubadour cellar-club's poetry ambience, after a week of enforced snow days spent staring, as poets do, at the whiteness – of the blank page!
Thanks to everyone who read last night, & all those who came along to enjoy poetry/fun, & all those who've made the effort to make our winter-months' poetry celebrations such a success… & those who've made it – from near or far-flung frozen wastes – to the Troubadour Gallery Sunday sessions.
I'll be in Texas for a month, now, followed by a month on my Arts-Council-England-sponsored writing travels in New England & Nova Scotia (see The Voyage Out) but watch out, meantime, for news of May-Jul Gallery Sundays & Poetry Mondays, & for the announcement of this year's Troubadour International Poetry Prize's prizes, judges, sponsors, deadlines etc, though you can, meantime, check out some great previous winners on the poems page.
See you all soon!
classes & courses
troubadour gallery sundays 12-3.30 pm, £28 at the troubadour
advance booking only as our workshops/classes (limited to 15 attendees) are frequently oversubscribed: pay via PayPal (see classes page) or cheque to Coffee-House Poetry, PO Box 16210, LONDON W4 1ZP: if overbooked you'll be informed by e-mail & refunded promptly