welcome
from Coffee-House Poetry organiser, Anne-Marie Fyfe
A sparkling poetry event last night (Mon 5 Dec) when we got to hear the winners & commended poets in our 2022 Troubadour International Poetry Prize read the poems that captivated judges Victoria Kennefick & Joshua Bennett — that's Jonathan Edwards, first prize, £2,000, Anna Crowe, second, £1,000, Robert Maslen third, £500, & twenty excellent 'commendeds'. Check out poets & poems here & read what our judges had to say about poets & the judging process.
And super readings from Victoria & Joshua — thanks, both, for your enthusiasm & critical acumen! — to wrap up a superb celebration!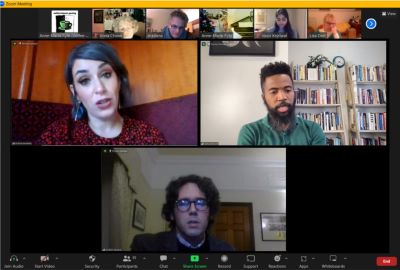 #poetrymondays on Zoom!
mon 5 dec, 7.30 pm: troubadour international poetry prize night: 2022 judges victoria kennefick & joshua bennett (free online event) with 2022 prizewinners
mon 13 june, 7.30 for 8pm: £10, bedford park festival poetry evening: the poetry of things With special guest: cahal dallat, hosted by anne-marie fyfe
mon 23 may, 8pm: tom sleigh & cahal dallat: reading & in-conversation (free online event)
See full details of poetry readings
classes & courses