"… life, literature, and the pursuit of happiness in the famous Troubadour cellar-club, London's liveliest and best–loved poetry landmark since the 1950s …"
Former US Poet-Laureate Billy Collins on the Troubadour's 60th birthday as a writer's café…
           Thanks to the zeal of its many managers and promoters, the Troubadour has evolved over its 60 year history from a hidden-away beatnik coffee house to a world famous center for the performance of music and poetry. Its walls have become storied, and if only the place had halls, they would be hallowed. The Troubadour was the scene of the first reading I gave in the UK, and I count myself among the long line of poets who are eager to return and darken its doorway again.
welcome
from Coffee-House Poetry organiser, Anne-Marie Fyfe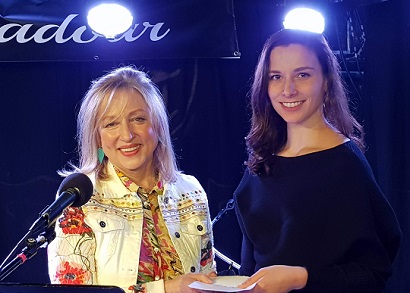 Welcome to a new Coffee-House Poetry year, & to our headline January news!!
First up's the announcement that 2020's Troubadour International Poetry Prize is up online & open for submissions to this year's judges, Mark Doty & Mona Arshi. Note that this year's prize deadline's June (Mon 22 Jun), rather than October, but everything else stays the same, major prizes, low submission fees, short judging period, judges read all poems etc. (That's 2019 first-prize-winner Michaela Coplen collecting her £2,000 cheque in pic above: check out her poem — & other winning entries & judges' reports, 2019 & prior — on our poems pages.)
Cellar-club #poetrymondays continue with a welcome return by Michigan poet/undertaker & BBC Radio 4 essayist, Thomas Lynch, in a pre-Valentine Feb 10th love & death stand-off between Cupid's arrows & the Grim Reaper's scythe, with 25 of our favourite Troubadours each with a new poem specially commissioned for the night (see next event right, with more events details to follow).
Classes & courses go from strength to strength: our 6-wk Jan-Feb Tue-night Between the Lines close-reading/critical-masterclass is full through to end-of-series (Feb 18th) but watch out for the start of a second series.
Next — & final — outing for latest #memorycloud theme, House — The Home Movie is also fully booked but do keep an eye on our classes page, or sign up for advance e-news via our Coffee-House Poetry newsletters for new workshops.
Summer Poetry in the Glens of Antrim was oversubscribed almost as soon as it went online (sorry to those who were disappointed but we're at absolute limit on numbers). Looking forward to an amazing August coastal week with an island trip thrown in!
And looking forward meantime, of course, to seeing lots of you on Feb 10th for an evening of Poems of Love & Death!
#poetrymondays
mondays 8-10 pm, £7 at the troubadour
for advance booking: pay via PayPal (on readings page) or cheque to Coffee-House Poetry at PO Box 16210, LONDON W4 1ZP
mon 10 feb: poems of love & death with US undertaker-poet thomas lynch plus twenty-five Troubadours with new takes on desire & demise…