"… life, literature, and the pursuit of happiness in the famous Troubadour cellar-club, London's liveliest and best–loved poetry landmark since the 1950s …"
Former US Poet-Laureate Billy Collins on the Troubadour's 60th birthday as a writer's café…
           Thanks to the zeal of its many managers and promoters, the Troubadour has evolved over its 60 year history from a hidden-away beatnik coffee house to a world famous center for the performance of music and poetry. Its walls have become storied, and if only the place had halls, they would be hallowed. The Troubadour was the scene of the first reading I gave in the UK, and I count myself among the long line of poets who are eager to return and darken its doorway again.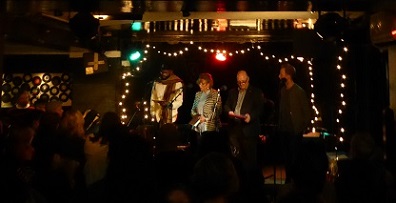 welcome
from Coffee-House Poetry organiser, Anne-Marie Fyfe
Can't say too much about last night's second-half, the unique What We Should Have Said poetry-impromptu, as I was one of the team this time – experiencing live & from the inside for the first time (we've pioneered the format here for 7 years now!) how themes & connections lead on magically & often counter-intuitively from one poet to the next…
… except to say that Inua Ellams & Richard Douglas Pennant (see pic above) read not merely dazzlingly persuasive & moving poems, but poems that inspired each other's next choices (& mine!) with, as always, strangely surreal observations from Stuart Silver & a stunning musical score from composer Huw Warren on piano (just out of sight in photo) but improvising subtly & daringly around the spoken word!
That was after an outstanding first half warm-up of non-stop pop-up poems from 20 great guest poets, making, overall, an exhilarating & inspiring evening's poetry for a packed & appreciative poetry audience as ever (100+ this time), plus all the warmth of the Troubadour's cellar-club/cabaret ambience — perfect antidote to February shivers & hints of impending snow.
Next up's a great post-Valentines celebration (Mon 19 Feb, see right) of matters of the heart launching a unique new anthology on the romance & reality (!) of the deep heart's core…
Check back in a day or two (or join our e-list) for news of the next Troubadour Sunday Gallery session, after two imaginative, exciting, challenging (& amazingly productive) workshop explorations of reflection & illusion, image & reality, in Smoke & Mirrors (see Jan 21 & Feb 5 on our classes page, where you can also check out our residential summer week on the beautiful Antrim Coast, now fully booked).
And we'll be launching our 2018 Troubadour International Poetry Prize in a few weeks' time (fabulous prizes!) so, meantime, do have a look at previous prize-winners from November's prizewinners night on our winners page, together with 10 years of previous prize-winning Troubadour poems.
See you all on Mon 19 Feb when we'll be getting to the very heart of poetry…
classes jan-mar & aug-sep 2018
troubadour gallery sundays 12-3.30 pm, £28 at the troubadour
advance booking only as our workshops/classes (limited to 15 attendees) are frequently oversubscribed: pay via PayPal (see classes page) or cheque to Coffee-House Poetry, PO Box 16210, LONDON W4 1ZP: if overbooked you'll be informed by e-mail & refunded promptly
sun 21 jan, 12-3.30 pm: smoke & mirrors: themed writing workshop with anne-marie fyfe
sun 4 feb, 12-3.30 pm: smoke & mirrors: themed writing workshop with anne-marie fyfe
sun 18 feb, 12-3.30 pm: and the rains came… themed writing workshop with anne-marie fyfe
check website later or join e-mail list for details of further jan-mar 2018 Troubadour Sunday Gallery workshops